Brand Consultancy: Branding Rabbit best Branding Agency
Branding Rabbit seeks to drive value beyond conventional measures. As a branding firm deeply rooted in multiple industries, we have helped clients capture marketplace opportunities and establish sustained differentiation through creative, imaginative design, comprehensive brand strategy and insightful market research.
We endowed to produce customer's dreams into reality. Branding Rabbit is a Delhi based Corporate identity designing company that believes "design that defines". The ONE-STOP-SHOP brand identity designer, where we work intensely in understanding a business, pick up the powerful points and create creatives around them.
We prefer to work with people who dream big and dare to be different. We're a branding and corporate identity agency where technology and creativity met and turned many businesses into "credible brands". People who believe in absolute impact, invest in innovation, culture, and enlightenment. We are ready to empower and grow your business too.
Branding Rabbit narrates your story to viewers in a beautiful way of designs that get recognized by a look, loved by hearts and drive results for entrepreneurs.
To be the global branding company, most admired for creativity and effectiveness.
Work hard, Everyday, Help brands to reach their full potential.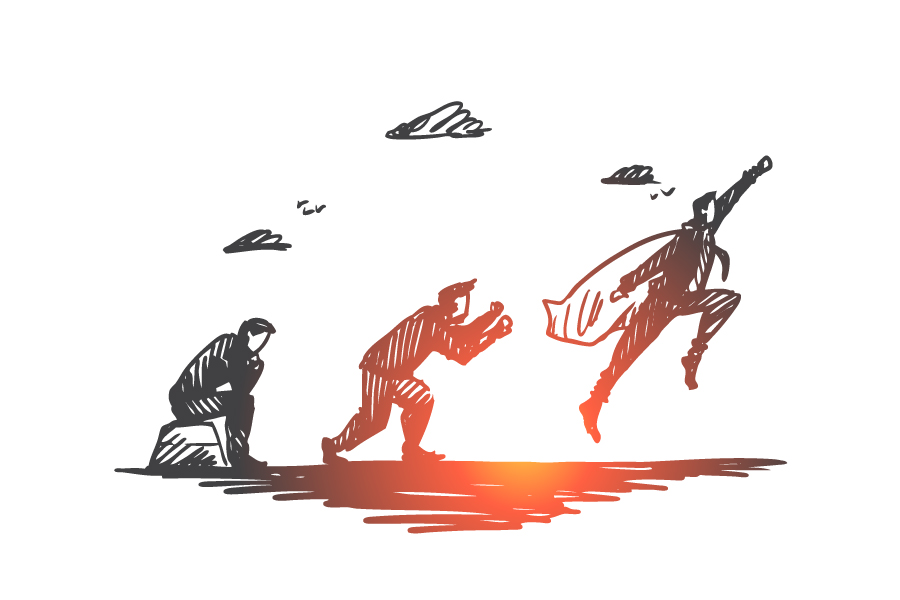 A branding agency built to build extra ordinary brands…
We are a branding and creative design company working at the intersection of culture, design, and technology. We value our craft and have a deep passion for progression, and exist to solve challenges for brands. Since our inception, our mission has been to do great work and have a great time doing it.
We see every project with fresh creative eyes
This makes us stronger and allows your brands to a breakthrough in highly saturated markets like technology and consumer goods. With our professional team experienced in working for the industry leaders from Manufacturing, Fashion, Technology, to Service Industries, we aspire to build impactful brands with each passing day.
We nurture our clients with great care and responsibility and provide strategized platforms for brands and launch them with an identity, which separates them from the rest. We love delivering the results that our clients crave for. And we have learned that the best way to do this is by being honest, bold, and imaginative.
Creativity is the one word that we love and put it into our work every day.
We develop tools and options for sustainable growth.
Deep Analysis
As external experts, the Branding Rabbit has the view from outside and years of experience within the fields of building brands, transferring brand assets and expanding brand heritages.
Deep comprehension of the histories of companies and contemporary megatrends and the legal know-how let the consultants find solutions that internal experts within the corporate complex can't have any longer.
Innovative Strategies
Every corporate brand must be innovative. Mergers and acquisitions reduce the view of the essential core of a brand leading to decreasing visibility and dominance.
Branding Rabbit Strategy Consultants know the internal and external fields of potential and incorporate inside and outside views and meanings.
High Efficiency
Since decades Branding Rabbit is involved in research of efficient brand and business drivers.
While many marketers believe in visual assets the bigger potentials of optimizing the entire marketing performance are hidden in nonvisual assets, especially in digital areas.
Advising Moderation
Corporate brands do live by people giving them base and power. A smart, sensitive way of moderation is necessary to find the best solution for all stakeholders. Branding Rabbit knows the necessities of international enterprises but also the needs of smaller brand-driven companies.
Market-driven Solutions
Branding Rabbit Brand Consultants know the automotive sector, suppliers, FMCG, Food and Non-Food, the banking and finance sector and health.
Branding Rabbit does the best to transfer the deep knowledge from one segment of international markets to the other.
Worldwide Co-operations
The Brand Consultancy works on a scientific basis, but about hands-on relevant suggestions and options for the client. To ensure holistic support Branding Rabbit has implemented a strong creative division. Branding Rabbit works in corporation with international law firms and market research companies worldwide. The consultants combine the stability of the Brand DNA with trendsetting brand visions.